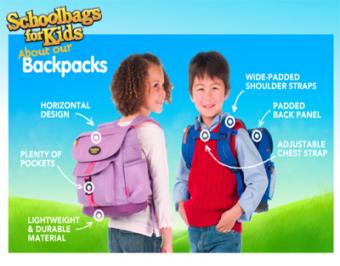 It's that time of year again! Back to School!
We are sending our children off again with BACKPACKS loaded with supplies. Here are a few steps to help make the decision of what backpack to go with and teaching them to use them correctly!
Choose carefully: Go for lightweight vinyl or canvas. Pick a pack that has two wide, adjustable and padded shoulder straps, along with a hip or waist strap, a padded back and plenty of pockets.
Pack it properly: Make sure the backpack contains only what is needed for the day or the activity. Distribute the weight of the contents evenly. The total weight of the filled pack should be no more than 10 to 15% of the wearer's body weight. Heavier backpacks cause children to bend forward to support the weight on their back, rather than on the shoulders by the straps.
Wear it right: Both shoulder straps should always be used, and adjusted so that the pack fits snugly to the body without dangling to the side. Never sling a backpack over one shoulder as this can cause disproportionate shift of weight to one side, leading to neck muscle spasms and low-back pain. The backpack should never hang more than four inches below the waistline. A backpack that hangs too low increases the weight on the shoulders, causing kids to lean forward when walking.
It's a fact! More than 50% of young people experience at least one episode of low back pain by their teenage years. Research indicates one cause is improper use of backpacks. So pack it light and wear it right! (Canadian Chiropractic Association)
It is imperative that their nervous system be working properly and is their best hope for being free from subluxation. Chiropractic is a safe and natural way to help children to develop to their fullest potential.
Book your children in for a Complimentary check-up.
This offer will include an in-depth consultation, a full neuromuscular examination, a posture analysis and a report of findings. If Dr. Egan determines that x-rays are necessary, the price of x-rays will be reduced to only $49. All this is regularly $215.
This offer is for September 2017 only, so contact us today to book your child's appointment.