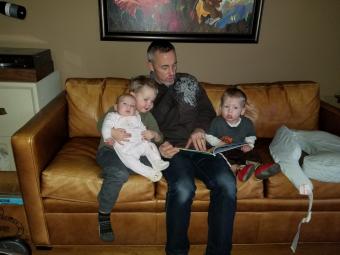 How can I be the adjustment?
Since "the powers that be" have significantly restricted my ability to give the physical adjustment, I am striving to be of help as we aim to remove the interference on a higher level. This has the potential to be far more life changing because I've been in the position to see how the power that grows the body, the same power that heals the body, is often interfered with well before it reaches a spinal level!
So to start… the most fundamental principle of life: Above-Down-Inside-Out (ADIO). This principle is the way the fabric of life is woven together. Relationship is the fabric of life and that's true on every level from the top down.
We are all wanting and needing salvation! Salvation right now from Covid-19 and all that surrounds it, from pain and a broken body, from a broken relationship/financial situation/whatever it may be… but most of all we need salvation from ourselves and this idea that we know what's best for us and others!
Well salvation comes down from above! It doesn't, and never will come in the form of the right adjustment from my hands or anyone else's, not from more or better medicine, the right nutrition, correct exercise, a better partner or child, an establishment or government, etc. Salvation comes ADIO in abundance and the supply is infinite. So, if we are not experiencing this, and not how we'd like, how can we remove the interference to this ADIO flow of life so that we can be saved? How can we get in alignment to allow more of that infinite potential to flow ADIOut of us so that we can be part of making this world a far better place to live in by bringing salvation to others?
Jesus: there is no other way to be saved… The only way we can know God, our creator, is by his own revelation. Now Jesus is the only one who has predicted his own death and resurrection, then pulled it off just exactly like he predicted it! Nobody has gone to that extent to prove that they can be trusted, and his claim (the one that got him killed) is that he is God Almighty. His revelation is most clearly articulated in the Bible... the Bible: Historically accurate, internally consistent, contains prophecies that have been fulfilled 100s of years later, has influenced the course of history more than any other book, continues to change the lives of millions of individuals as it has throughout history, through it people come to find salvation, it has majestic beauty and profound depth of teaching unmatched by any other book and it claims to be God's word 100s of times over.
But it's not just saying his name or having an intellectual understanding of the bible and what it says, he's a fundamental way of doing life, a way of looking at the world, of interacting with the world around us and responding in such a way, not to elevate ourselves, but to get low (sacrifice) so we can elevate those around us!
So, from the message this morning (Rosedale Baptist Church). We read in James 1:21 Therefore put away all filthiness and rampant wickedness and receive with meekness the implanted word, which is able to save your souls. This is a call consistent with Paul's callings in Romans 8:13, 1 Corinthians 9:27 & 2 Corinthians 7:1 ( let us cleanse ourselves from everything that defiles body and (like) spirit – like I believe is a better translation which I'll likely get into in a later blog).
We are ultimately and eternally saved by putting our faith in God's faithfulness, he makes us spiritually alive by reviving us with his Spirit who stays in/with us, the implanted word, the perfect law (the law of liberty/freedom – a perfect obedience obtained for us by Jesus now implanted in us so that we don't have to try and justify ourselves to God or anyone else) something we can now live out of (the power that drives us) to the extent we receive with meekness (humble patience/repentance/renewing of one's mind/saving of one's soul) and persevere in!
So, what does that look like? Discipline… from which we get disciple. Putting away all filthiness means training your body to submit not to what we feel like doing but what is best for us in order to make us the best we can be for others. We learn what is the best for others by following Jesus who gave up everything, even his life, so that we might have life. We are to line up our way of thinking (renew the mind) with his way of doing life/his calling on our life.
When we look into the mirror, we see our fragility, imperfections, our degenerating bodies that need to be in alignment so healing, strengthening and nourishment can happen. Since our bodies are driven by desires of comfort and security, we are to make a practice of such things; fasting, staying in alignment, exercise, deep controlled breathing/breath holding, cold water immersion, working hard, giving of time, money, skills, etc. We do these in order to help others, and as we persevere in these things, build them into a consistent habit, we open ourselves up to more of God's blessings that flow into and through us (the biggest of which is a closeness of relationship with him being the source of life)… this is how our souls are saved! We live out of the spiritual salvation God has imputed to us through Jesus death and resurrection.
So the question: How are you going to apply God's word today, and during this time, so that you can be blessed in your doing? Are you going to partner with God in bringing heaven (resurrection/healing/reconciliation/unity and harmony/community) to every place you see hell here? Are you willing to get low so you can be a part of lifting others up? What are you going to do to improve health? Because you can't give what you don't have!